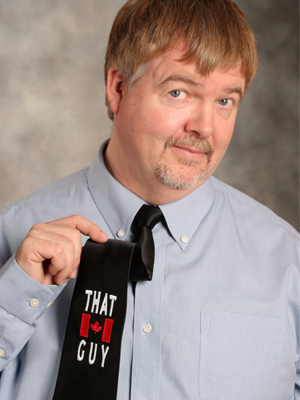 Login
for Additional Talent Info
(photos, videos)
If you do not yet have a user login,
register here
.
You may not know the name, but you probably know the face. Glen Foster, a.k.a. "That Canadian Guy" has been a headliner on the Canadian comedy circuit for over twenty years. He has performed on numerous television shows including his own comedy special, CBC's Comics, Comedy at Club 54, and The Mike Bullard Show. He has also appeared six times at the Montreal International Just for Laughs Comedy Festival, and can be heard frequently on CBC Radio shows such as Definitely Not The Opera and The Debaters. Glen has recorded two comedy CDs and a concert DVD, entitled, Shot at The Empire.

Glen has become a household name among comedy fans or, perhaps more correctly, a household "non-name", since adopting the moniker "That Canadian Guy", ( a joke based on the idea that audiences have short attention spans and likely wouldn't remember his name.) His comedy special That Canadian Guy struck a chord with Canadians for his hilarious, but dead on portrayal of the conflicted Canadian psyche. It resulted in a flood of congratulatory e-mail along the lines of, "I couldn't remember your name, but I remembered 'That Canadian Guy'."

Glen's material is topical and timely, reflecting both current events and popular culture. He typifies the middle class, middle aged, "average guy" struggling to understand his role in an increasingly complex and diverse society. Beneath his quiet, reserved exterior, there is frustration, confusion, and angst - bursting forth in some of the most clever and inventive comedy anywhere. His versatility, combined with his ability to relate to a wide variety of audiences, have made him much in demand as a comedy headliner and also at corporate functions throughout North America and around the world.