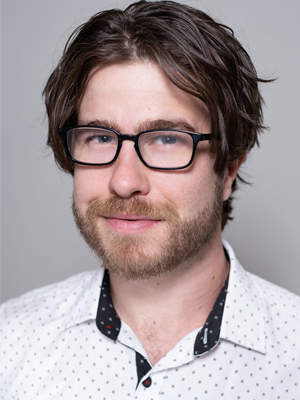 Login
for Additional Talent Info
(photos, videos)
If you do not yet have a user login,
register here
.
At a young age, Alex Wood is already a stand-up comedy veteran. His high energy style mixes finely tuned jokes and storytelling. He's performed at the Montreal Just For Laughs festival twice. Once in 2009 for The Homegrown Show where he was featured in the Montreal Gazette's "Best of the Fest" article. He made his return in 2017 taping at Kevin Hart's "LOL Network" and was named one of the "Canadian Acts You Need to Know" by Interrobang. Alex has performed across North America and been featured on SiriusXM, CBC Radio and JFL42 in Toronto. His debut album was #1 on iTunes comedy chart.
Testimonials
"It was great! Exactly the way I would have wanted it to go. It was a good mix of crowd - young and old - which is what I wanted. I think that naturally makes it harder for the comedians but they did a great job. And Alex was a great sport with the pants. It was hysterical. I have heard nothing but good things about the event. Everyone was really pleased and thought it was a great show. The general consensus was that it was a well done event and that we should look into doing it annually. Which I am SO pleased about! I think it was a good mix of comedy between both Alex Wood and Don Kelly. I thought there was something for everyone. Both James and I were very happy. Thanks so much again for all of your help and hard work here Howard."
-Kimberley F, CIBC
"I'm writing to thank Alex Wood for his knock out performance at our Learn Laugh Listen theatre room event. I would recommend Alex Wood to anyone wanting to have an audience, that both leans in to listen and then leans back to roar with laughter. Alex is so gifted of a story teller, that when he is entertaining a crowd of people. You're convinced it's just you he's talking to and sharing the details of a story Alex Wood is an exceptional talent that brings an "it" factor to his performances. It sets him apart from the good and has him headed towards stardom. Which is simply when the rest of the world finds out, what I just said is true."
-Gord Garner, Event Organizer Learn Laugh Listen